BAS II Festival: gig review by DSOAudio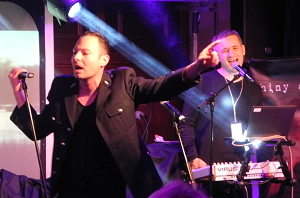 DSOAudio did a nice write up on the Basildon II event (we did our own here: https://shinydarkness.com/bas-ii-moments/).
An abstract from the full review about Shiny Darkness:
 it was time for French three-piece Shiny Darkness, who exuded a quality air of professionalism that so many underground bands from continental Europe manage so well. Research before the festival turned up some good-looking promo videos for their material. They hit the ground running presenting a polished package right from their start. Their debut album Lighthouse was released in 2010 and they're currently promoting their second My Angel Has Spoken.
The Depeche Mode influence here is readily apparent (they've got a song entitled Sound of Basildon!), but a melange of typically French Gothic sensibilities encroaches too, meaning you get songs such as Like A Vampire which for me didn't quite sit with the rest of their electronic pop sounds. All the songs were sung in English and given some deeper exposure to Shiny Darkness I could definitely see how you'd get quite into them. A major asset is to be found in lead singer Sebastien Deruwez's impressive voice. It is perfectly suited to the genre and the similarities with Dave Gahan's 'rough yet rich' voice are instantly apparent. Out of those bands new to me, Shiny Darkness are definitely one I'd want to see again live before too long.
Shiny Darkness setlist: Emotionally Involved, Bitter Kiss, Prayer For My Imaginary World, See You In Next Life, Like A Vampire, Highs And Lows, Dropping Of My Faith, Sound Of Basildon
Please go and read the full article http://www.dso.co.uk/gig238.htm. Don't forget to check each an every band mentionned by DSOAudio: you may find some good gems in there!